Colocation
Host Color – Reliable, low cost Colocation services in our Midwestern U.S. data center, based out of South Bend, Indiana (90 miles from Chicago). The facility location and our 100% uptime, SLA guarantee, Juniper-managed network ensure the lowest possible latency to any point in North America..

Host Color's infrastructure is hosted in a high-class data center based out of South Bend, Indiana (90 miles from Chicago). It is strategically located in the Midwestern United States to ensure lowest possible latency to any point in North America. In this site Host Color operates a fully-redundant and concurrently maintainable IT infrastructure (including all capacity components) which theoretically guarantees 99.995% availability. Host Color uses multiple, independent distribution paths to its IT infrastructure. All equipment – Juniper routers, EX switches, Shared Hosting servers, VPS systems and all Dedicated servers are dual-powered.
APC/Schneider Electric Rack Enclosure AR 3100
20 amps of power (120 Volt)
Free Switched or Metered PDU (16 power outlets)
50 Mbps Bandwidth / 1 GigE port
Free Traffic/Port  Monitoring
Midwest Peering (Optimized routes to more than 60 million Internet users)
Remote Reboots
/26 – 64 IPv4 Addresses
/64 – IPv6 Addresses
Monthly Contract (No forces annual contracts)
– – –
HCE – offers Managed Colocation and Infrastructure services in various Tier 3 and Tier 4 facilities in Europe including London, Amsterdam, Paris, Vienna, Sofia, Bratislava and Athens. The colocated equipment is connected on 1 Gbps and 10 Gbps physical ports with certain bandwidth limit, which depends on the customers' requirements.
We are a partner on the Equinix IT facility ecosystem, which allows us to colocate and host your equipment in other 15 data centers in different European countries. The rack-mount server colocation pricing below applies to our Sofia data center, based out of Equinix 1, Sofia facility.
– – –
RAX – Colocation in Southeastern Europe. RAX's infrastructure is located in TelecityGroup facility, based out of Sofia, Bulgaria. The company operates Juniper-based full-redundant, multi-homed network connected to multiple carriers.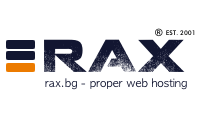 RAX maintains upstreams to Telecom Italia, Hurricane Electric, Novatel (Magyar Telekom, Deutsche Telekom), Interoute, Balkan-IX (Balkan Internet Exchange), and other European peering points providing our customers with best possible connectivity to the whole European Union, Russia, Ukraine, Turkey and Middle East.
The Colocaiton plans start at €69/month
 1U Colocation

3 200 GB Global IP Bandwidth

10 Mbps Port European Peering

1 Amp power

Dual powered A & B feed

2 independent UPS

/30 IPv4 subnet (4 IPs)

/48 IPv6 subnet

Free server monitoring account